Welcome to PracticeUpdate! We hope you are enjoying access to a selection of our top-read and most recent articles. Please register today for a free account and gain full access to all of our expert-selected content.
Already Have An Account? Log in Now
Symptoms in Late Reproductive Years Similar to Menopause
Authors say findings could help with culturally competent guidance about menopause
HealthDay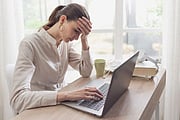 WEDNESDAY, Jan. 11, 2023 (HealthDay News) -- Late reproductive-stage women experience multiple symptoms often associated with menopause, according to a study published online Jan. 10 in Menopause.
Yamnia I. Cortés, Ph.D., M.P.H., from the School of Nursing at the University of North Carolina at Chapel Hill, and colleagues compared the symptoms women self-report during the late reproductive stage and the menopausal transition. The analysis included 358 women (ages 35 to 55 years) participating in the Spanish-language Women Living Better survey.
The researchers found that a similar proportion of women in the late reproductive stage and menopausal transition reported eight of 18 symptom groups: feeling anxious/worried/nervous; feeling sad/blue/depressed; breast soreness; difficulty concentrating; headache/migraine; discomfort or pain with sex; urinary frequency; and urinary urgency. A lower age-adjusted likelihood of musculoskeletal pain (odds ratio, 0.35) and decreased interest in sex (odds ratio, 0.49) was seen for women in the late reproductive stage versus menopausal transition. Similar interference with personal relationships was seen in both groups.
"This study in Spanish-speaking women not only adds to the evidence that women experience multiple symptoms typically associated with the menopause transition in their late reproductive years but also highlights opportunities for anticipatory guidance that is culturally and linguistically appropriate," Stephanie Faubion, M.D., medical director of the North American Menopause Society, said in a statement.
Abstract/Full Text (subscription or payment may be required)