Welcome to PracticeUpdate! We hope you are enjoying access to a selection of our top-read and most recent articles. Please register today for a free account and gain full access to all of our expert-selected content.
Already Have An Account? Log in Now
Red-Flag Signs May Indicate Early-Onset Colorectal Cancer
Abdominal pain, rectal bleeding, diarrhea, and iron deficiency anemia seen up to two years before diagnosis
HealthDay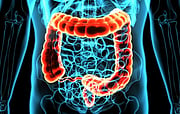 WEDNESDAY, May 24, 2023 (HealthDay News) -- Four red-flag signs and symptoms may signal an elevated risk for early-onset colorectal cancer (CRC), according to a study published online May 4 in the Journal of the National Cancer Institute.
Cassandra D. L. Fritz, M.D., from Washington University in St. Louis, and colleagues used data from 5,075 incident early-onset CRC among U.S. commercial insurance beneficiaries and matched controls with two or more years of continuous enrollment (2006 to 2015) to identify red-flag signs/symptoms between three months to two years before the index date among 17 prespecified signs/symptoms.
The researchers found that four red-flag signs/symptoms (abdominal pain, rectal bleeding, diarrhea, and iron deficiency anemia) were associated with an increased risk for early-onset CRC (odds ratios [ORs], 1.34 to 5.13). Risk increased with more of these signs/symptoms (one: OR, 1.94; two: OR, 3.59; three or more: OR, 6.52). Even stronger associations were seen for younger ages and rectal cancer. Roughly one in five cases (19.3 percent) had their first sign/symptom occur between three months and two years before diagnosis (median diagnostic interval, 8.7 months), whereas 49.3 percent had the first sign/symptom within three months of diagnosis (median diagnostic interval, 0.53 months).
"It's also crucial to spread awareness among primary care doctors, gastroenterologists, and emergency medicine doctors," a coauthor said in a statement. "To date, many early-onset colorectal cancers are detected in emergency rooms, and there often are significant diagnostic delays with this cancer."
Abstract/Full Text (subscription or payment may be required)