Available until 11/1/2023
Welcome to PracticeUpdate! We hope you are enjoying access to a selection of our top-read and most recent articles. Please register today for a free account and gain full access to all of our expert-selected content.
Already Have An Account? Log in Now
Fine Particular Matter Linked to Increase in Breast Cancer Risk
Significant increase in risk seen for ER-positive breast cancer, but not ER-negative tumors
HealthDay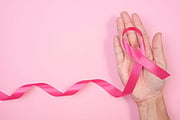 TUESDAY, Sept. 12, 2023 (HealthDay News) -- Fine particulate matter (PM2.5) is associated with an increased risk for breast cancer, specifically estrogen receptor-positive (ER+) breast cancer, according to a study published online Sept. 11 in the Journal of the National Cancer Institute.
Alexandra J. White, Ph.D., from the National Institute of Environmental Health Sciences in Research Triangle Park, North Carolina, and colleagues estimated annual average PM2.5 concentrations for a five-year historical period 10 years prior to enrollment of women in a prospective cohort study. The adjusted hazard ratios for the association between a 10-µg/m3 increase in PM2.5 and breast cancer incidence were estimated overall and by ER status and catchment area.
A total of 15,870 breast cancer cases were identified with follow-up through 2017. The researchers observed a significant association for a 10-µg/m3 increase in PM2.5 with overall breast cancer incidence (hazard ratio, 1.08; 95 percent confidence interval, 1.02 to 1.13). The association was significant for ER+ tumors (hazard ratio, 1.10; 95 percent confidence interval, 1.04 to 1.17) but was not seen for ER− tumors (hazard ratio, 0.97; 95 percent confidence interval, 0.84 to 1.13). Across the catchment areas, the overall breast cancer hazard ratios (95 percent confidence intervals) were >1, ranging from 1.04 (0.68 to 1.57) in Louisiana to 1.26 (0.96 to 1.64) in North Carolina.
"We observed an 8 percent increase in breast cancer incidence for living in areas with higher PM2.5 exposure. Although this is a relatively modest increase, these findings are significant given that air pollution is a ubiquitous exposure that impacts almost everyone," White said in a statement. "These findings add to a growing body of literature suggesting that air pollution is related to breast cancer."